Double J Stables and Campgrounds is located off the Northeastern corner of Mammoth Cave National Park. We are about as close as you can get to the Mammoth Cave National Park. You do not need to cross or ride on any public roads to enter the park, just mount up and ride on in.

Happy 2016. We are open for business
Due to the overwhelming response from our previous customers, we have decide to expand on the Private Guided Trail Rides. Beginning September 6 ,2016; following Labor Day, the private rides will be made more readily available.

This experience includes the use of our horses and tack. Bring your group of 2-6 people and whatever you would like to eat and drink. Then just show up and enjoy the ride.

We are offering a 2 1/2 hour ride for $65 per person and a 4 hour ride for $100 per person.

We are very excited to offer these rides on a more available time frame. We are sure you will enjoy the Backwoods horse trails in Mammoth Cave National Park.

Keep in mind that reservations are required, so give us a call to book your date and time. 270-286-8167
Dave N Rocky owners as of March 2011
Read our write up "Rake in the vistas" By Kathy Witt from the October 2014 Kentucky living issue.

We offer water and electric sites as well as rustic sites. We offer stalls, turn out area, picketing or pens for your horses. Check here for our campground rates. Click here for our campground rules. We are limited, so reservations are required. We also have a completed modern bathrooms, and showers along with ice and vending, machines; a country restaurant is just minutes away.
We are now offering Private Trail Rides and Carriage Rides in addition to our guided trail rides. We are also offering wedding and birthday party packages. Please call for more information and pricing.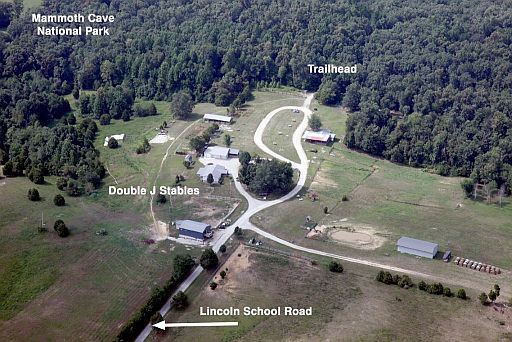 Mammoth Cave National Park offers 70 miles of beautiful scenic trails. For the most part, they are challenging. The trail head is located adjacent to our campgrounds. If you are camping with your own horse, no guide is required. Trail maps are available and all trails are clearly marked. If you are close enough to our ranch and want to ride for a day, we have a day use area that is available to you for $2.00 per day and no reservations are required. Reservations for the camping are required.
Mammoth Cave National Park offers cave tours 364 days a year. A must see when visiting our ranch. Nolin Lake recreation site are is located to our North, approximately 5 miles. Nolin Lake offers outstanding fishing and swimming. Cave City is located 15 minutes from the visitor's center at Mammoth Cave National Park and offers many treats such as Guntown Mountain (great for kids) Wildlife Museum, Action Park and great restaurants. Bring your golf clubs; Shadlyhollow Golf Course is just 3 miles from the Stables.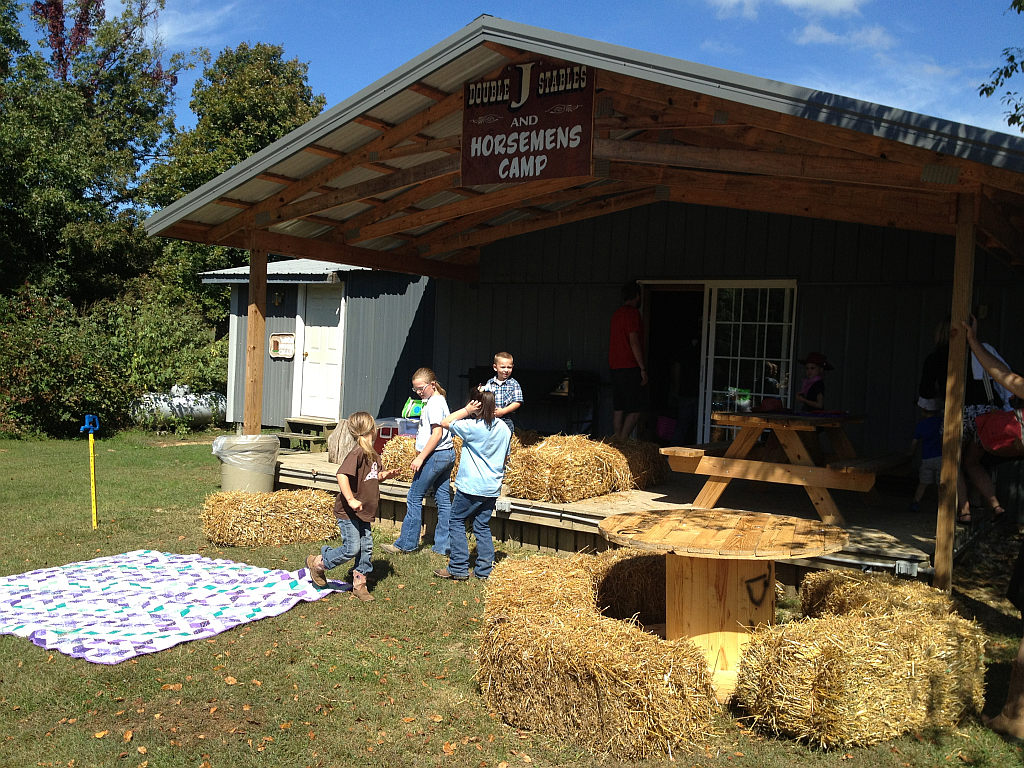 Park and are we are growing every year, adding more conveniences to our campground. We are looking forward to being your host. For further information or reservations call 270-286-8167.
Licensed Outfitter for Mammoth Cave National Park
We welcome all of your comments and suggestions, call 270-286-8167.
rules apply to all horseback riders using the park:
When hikers and horses meet, horses must be slowed to a walk and hikers must remain quiet.
Always hitch horses more than 100 feet away from designated campsites, trails or water sources.

See the Frequently Asked Questions to read some of the more common inquires.
Download / View Campground Rules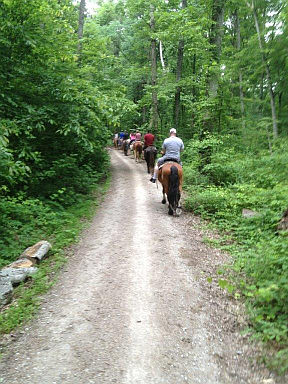 Double J Stables
542 Lincoln School Road
Mammoth Cave Kentucky 42259
270-286-8167


For more information on visiting Double J Stables call 270-286-8167