The Double J Stables are open for trail rides and camp sites, contact us for reservations and more information!
Double J Stables
Calendar of events for 2013
Double J Stables
542 Lincoln School Road, Mammoth Cave KY
270-286-8167
MORE EVENTS!

DATE

EVENT

May 24- May 27- Memorial Day Weekend

Live music with the local band "4 aLARM" on Sat. May 25th 6:30pm-10:30pm
Kids Fun Show.

---

August 30th- Sept. 2nd

Labor Day Weekend
DJ/Karaoke on Sat. Aug 31st 6pm-10pm


---

November 1st and 2nd- Halloween Weekend

Trick or treat, hay and carriage rides, fun, games and lots of goodies.
On Saturday, Nov. 2nd- 3rd Annual Horseback Poker Run. After the run, DJ/Karaoke at 6pm.


---

Times and more information will be posted as each event gets closer
so keep an eye on our website.

Make your reservations now for these fun events.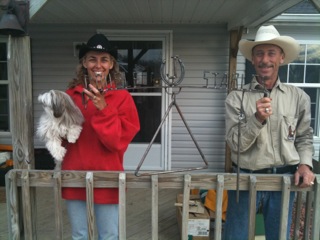 Rocky N Dave the new owners of the Double J Stables
Double J Stables
542 Lincoln School Road
Mammoth Cave Kentucky 42259
270-286-8167



For more information on visiting Double J Stables call 270-286-8167
© 2007 - 2011 DoubleJstables.com
Created and Hosted by A3Rocks.com